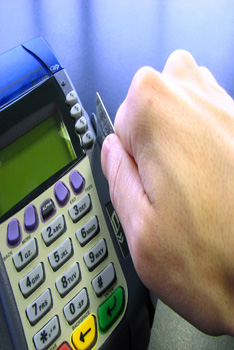 Does your business provide the convenient payment options that are in high demand? If not, you may alienate your patrons and lose sales. Let Payex show you how easy it is to adapt to today's standards.
From traditional plug-in credit card readers to "contact-less" machines, mobile wi-fi units, and even your own touchtone phone, the payment processing options are endless. Payex will help match the right technology to your needs and budget.
Need quick machines for high-volume transactions?
Let shoppers pay with a wave of their credit card using the latest radio frequency identification devices and send the transactions using your high-speed internet connection for 3 second transaction times.
Want secure, mobile transactions?
Wi-fi technology is perfect for multiple point-of-sale environments like restaurants. Customers choose a payment, swipe their card, add a tip, and sign without letting go of their credit or debit card.
Already have your own software or hardware?
The solutions from Payex are flexible so you get exactly what your business needs without any added expense.
Payex offers competitive pricing with no teasers or gimmicks. We disclose our fees upfront in writing and guarantee against arbitrary price increases.

Payex even has special discounts for small ticket retailers like taxi and limo services, restaurants, dry cleaners, convenience stores, movie theaters, and more. That's just the beginning! Many business-to-business environments, schools, and non-profit organizations also qualify for special pricing. Let Payex give you the discounts you deserve.
Fast, Easy Application Process
Payex eliminates the red tape, so you can accept all major credit and debit cards in no time! Complete your application in person, via fax, mail, or email. Less than perfect credit is no problem and there's no need to switch banks. If you already have a terminal, we simply schedule a time to quickly program your hardware to our system, for minimal down-time.
Still wondering whether credit card processing is right for your business? With the right payment solution, you will:


Increase sales with a new variety of payment options
Increase cash flow and protect funds by getting payment up front
Simplify and speed up transactions
Increase credibility and create loyal customers
From Storefront to web, large transactions or small, Payex has a solution to fit your special needs.
With all the benefits available, can your business afford NOT to accept credit cards? Make an investment in your future and call Payex today. Put credit card processing, and Payex, to work for your business!