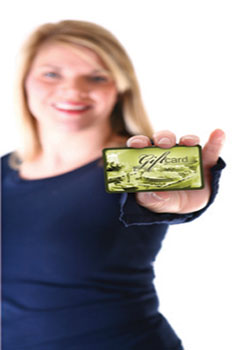 Does your business have a gift for generating revenue?
Give your business the gift of generating revenue and building loyalty. Talk to Payex. We have the profitable gift card solution your business can cash in on.
Gift Cards are an unbeatable profit center. $8 billion of the $80 billion in gift cards bought last year will never be redeemed. Those who use them spent 110%-200% more than the card's face value. Quite simply, you can't lose.
Consumers choose gift cards because they are quick, convenient and more personal than giving cash. Gift cards are bought for all occasions--any time of the year--and they satisfy shoppers by providing a CHOICE. It's no wonder that over $80 billion in gift cards are purchased every year. Your business shouldn't be left out. This year meet the growing demands for gift and loyalty cards.
Payex can quickly customize an affordable gift card program for you with features you can rely on:


Versatility -- Compatible with most existing credit card terminals
Reliability -- The industry's best data processing & money management systems
Customization -- Unique card design and production services
Expertise -- To help you reach your highest sales potential
Support -- Dependable customer service and technical support
Get cash today for potential sales tomorrow
An amazing 19% of recipients will never use their gift cards, and those who do use them spend more than their value. Either way, you win! Custom gift cards also divert traffic and sales away from your competition. They are miniature billboards that advertise your business whenever cardholders open their wallets. They're more attractive -- and more secure -- than paper gift certificates. Gift cards are also powerful self-marketers: display them near your register for customers who often make impulse purchases.
Can you think of a better way to increase sales, create new marketing opportunities and build consumer loyalty? Besides being easy to purchase and redeem, gift cards give customers a reason to be excited about purchasing from you.


Reload gift cards for continued use
Issue as promotional cards
Create electronic coupons
Offer cards as store credit for merchandise returns
The options for gift and loyalty card programs are endless. Give your business the edge to compete in today's market.